Out of all of the Plum Village community's practices, 'Calm and Ease' is one of the best-loved guided meditations. No wonder it's one of the most-played meditations on both our app and YouTube channel.
Its simplicity also makes it adaptable for different lengths, with several versions located in the app's Guided Meditations folder. The most popular is a 20-minute version guided by Zen master Thich Nhat Hanh. It takes you back to the rhythm of your in- and out-breath.
Here is some of Thich Nhat Hanh's basic guidance for practitioners:
"Breathing in, I know I am breathing in. Breathing out, I know I am breathing out. In. Out."
After saying this, it can be abbreviated to saying "In" as we breathe in, and "Out" as we breathe out. Don't try to control your breathing. Whether your in-breath is long or short, deep or shallow, just breathe naturally and shine the light of mindfulness onto it.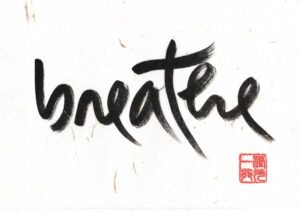 Doing this means that your breathing will naturally become slower and deeper: "Breathing in, my in-breath has become deep. Breathing out, my out-breath has become slow. Deep. Slow." It is not necessary to make an extra effort. Your breathing will become deeper and slower by itself; recognize this.
Gradually, you will notice that you have become calmer and more at ease: "Breathing in, I calm my body and my mind. Breathing out, I ease everything. Calm. Ease."
You will not be struggling any more: "Breathing in, I smile. Breathing out, I release all my worries and anxieties. Smile. Release."
You are able to smile to yourself and release all of your worries. There are more than three hundred muscles in the face; when you know how to breathe in and smile, these muscles can relax. This is 'mouth yoga'. Smile, and you are able to release all your feelings and emotions.
"Breathing in, I establish myself in the present moment. Breathing out, I know this is a wonderful moment. Present moment, wonderful moment." Nothing is more precious than being in the present moment, fully alive and aware.
"In, out. Deep, slow. Calm, ease. Smile, release. Present moment, wonderful moment": using this poem during sitting or walking meditation can be very nourishing and healing. Practice each line for as long as you wish.
Here are the different lengths of this meditation (audio only):
➛ Short (15 minutes)
➛ Medium (20 minutes)
➛ Long (36 minutes)
Guided by other monastics:
➛ For five minutes, Sister Peace walks you gently through a meditation in which you will learn to pay attention to the quality of your breath, and become anchored in feelings of calm and ease.
➛ Sister Dieu Nghiem's eight-minute version focuses on the mindfulness of the breath, helping you dwell peacefully in the present moment.
Enjoy the practice!
---
☁️ As has been the case with Buddhist teachings for millennia, there is no charge for the Plum Village App and its digital content. However, if your means allow, please consider offering a donation to support our small team's continued work on the app.