Any time is the right time to talk about peace, but, in deeply troubling times like those we are living through, this conversation becomes essential.

Below is a range of books about peace by Zen Master Thich Nhat Hanh and other educators and practitioners. From perspectives on resolving the conflict between the Israelis and Palestinians, to Engaged Buddhism for true peace, and insights from the world's peacemakers, this selection should help you navigate key concepts and practices for peace – in ourselves and in the world around us.
All of these titles have been published by Parallax Press; we look forward to hearing your own suggestions of books on peace, non-violence, and conflict resolution.
Peace Begins Here: Palestinians and Israelis Listening to Each Other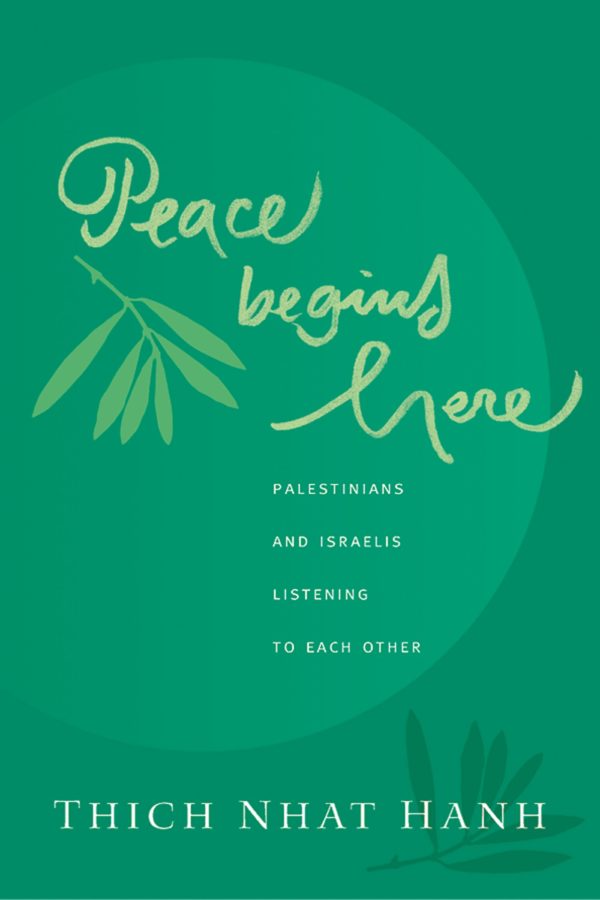 Using a Buddhist perspective on conflict resolution, Thich Nhat Hanh demonstrates how a real peace process is based on spiritual, not political strength. Inspired by a Buddhist retreat project for Israelis and Palestinians, this book offers practical ways to handle our strong emotions and misperceptions, and provides a possible way out of the conflict in the Middle East.
Peace Begins Here is rich with stories from individual Israelis and Palestinians, as well as relevant experiences from Thich Nhat Hanh's life, including his involvement with nonviolent action during the Vietnam War and its aftermath. Highlights include personal stories from participants in the peace retreats and Thich Nhat Hanh's collected practices for peace, including deep listening, deep relaxation, mindful walking, mindful eating, and loving speech.
True Peace Work: Essential Writings on Engaged Buddhism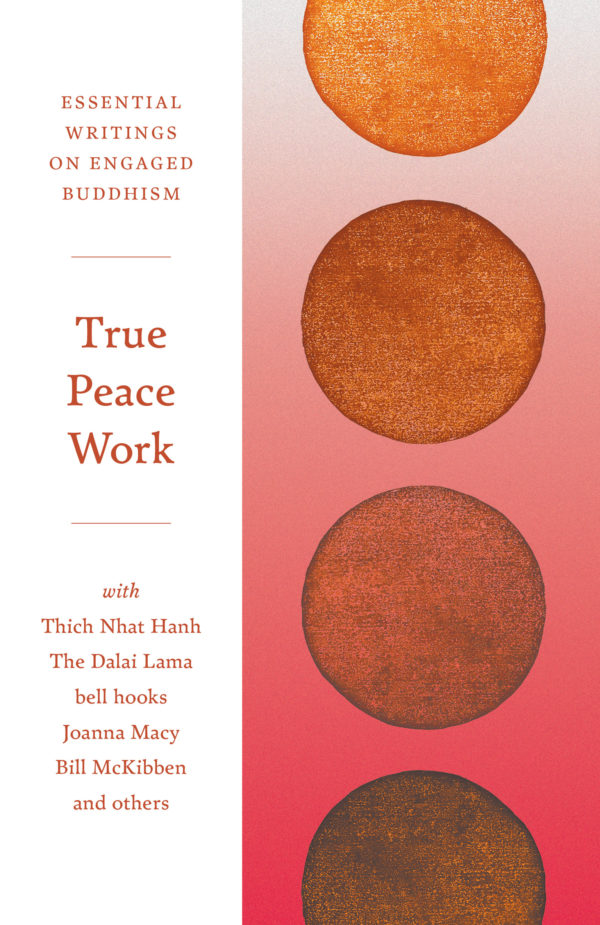 Thich Nhat Hanh and many others are featured in this foundational trove of Buddhist essays, poems, and teachings. Now a modern classic, True Peace Work is the premier collection of writings on the practice of Engaged Buddhism. This term, which Zen Master Thich Nhat Hanh coined in the 1950s as part of his peace work in Vietnam, has grown into a worldwide movement.
The topics covered here are especially relevant in today's world: from creating nonviolent social change and raising climate awareness, to simply learning how to walk (and enjoy it). This is not purely an activist's manual, however; True Peace Work is a spiritual bedrock as timeless as it is timely, one that insists on the connection between peace in oneself and peace in the world.
Being Peace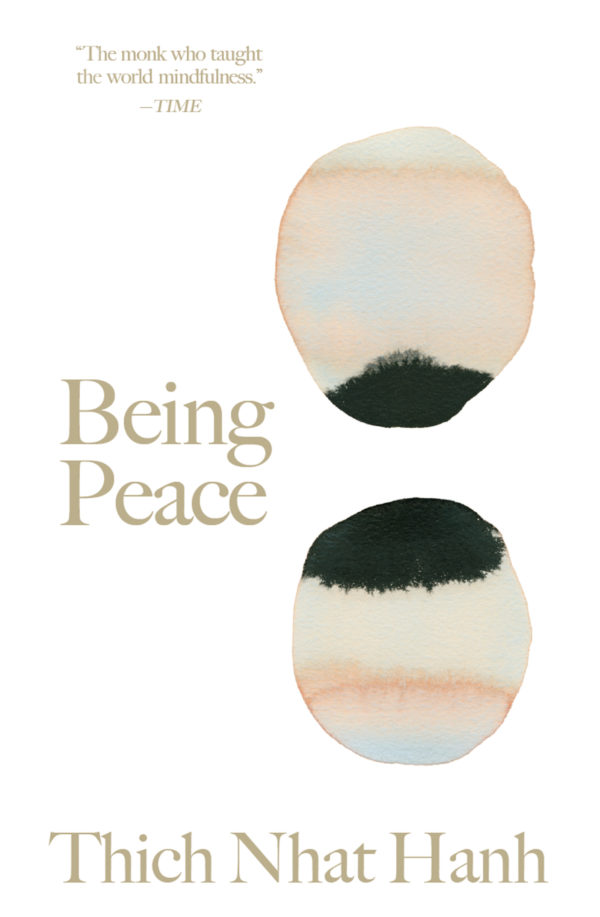 A timeless introduction to Thich Nhat Hanh's most important teachings, this spiritual classic, a commentary on the peace movement of the time, was intended for peace activists themselves, but became a sensation. Decades later, it continues to be an indispensable guide along the path.
Many of the hallmarks of Thich Nhat Hanh's teaching appear here for the first time, in his trademark clear, steady style. The book's opening has become one of his most widely quoted teachings: "Life is filled with suffering, but it is also filled with many wonders, such as the blue sky, the sunshine, the eyes of a baby. To suffer is not enough."
➛ Read some excerpts from the book here.
Keeping the Peace: Mindfulness and Public Service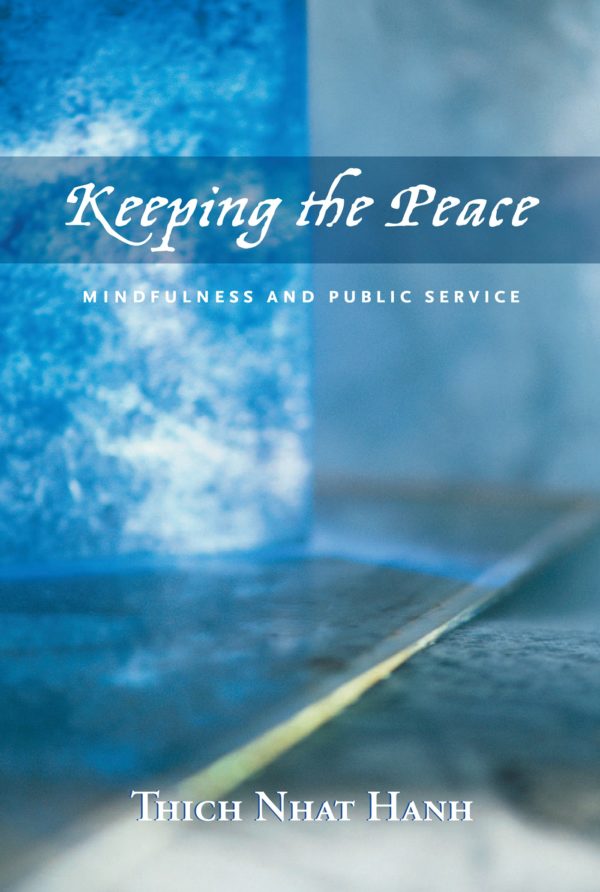 Keeping the Peace speaks to everyone who works in difficult, people-oriented jobs, and shows how to turn environments often filled with anger, stress, and frustration into islands of peace. Zen Master Thich Nhat Hanh creates a revolutionary definition of public service that includes all of us. He challenges us to transform the way we think about our work, and offers eleven key practices to strengthen our mindfulness and joy.
Based on a retreat for civil servants, Keeping the Peace is the first book of its kind to demonstrate the usefulness of mindfulness practices for law enforcement officers, social workers, teachers, and others in people-helping professions.
With empathy and humor, Thich Nhat Hanh demonstrates public service professionals' need to cultivate their inner peace in order to help others. In concise prose, he offers a path for reducing violence in ourselves, our workplace, and ultimately, in our world.
Peace in Our Lifetime: Insights from the World's Peacemakers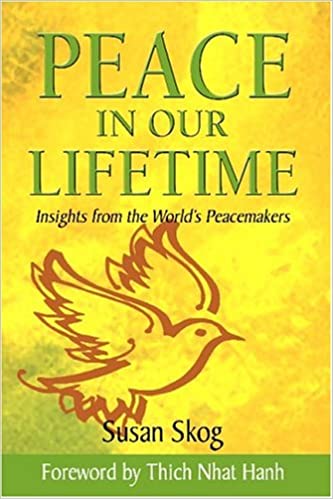 Through the lives and lessons of more than fifty exceptional peacemakers working in high-conflict areas, this book shows how we can create peace, both personally and globally. Powerful stories of grassroots peacemaking show ways to channel our anger into positive change, and to get to the root of our conflicts.
It explores how we can listen compassionately, find common ground, and even forgive our 'enemies', and includes an inspiring foreword by Thich Nhat Hanh.
Seeds of Peace: A Buddhist Vision for Renewing Society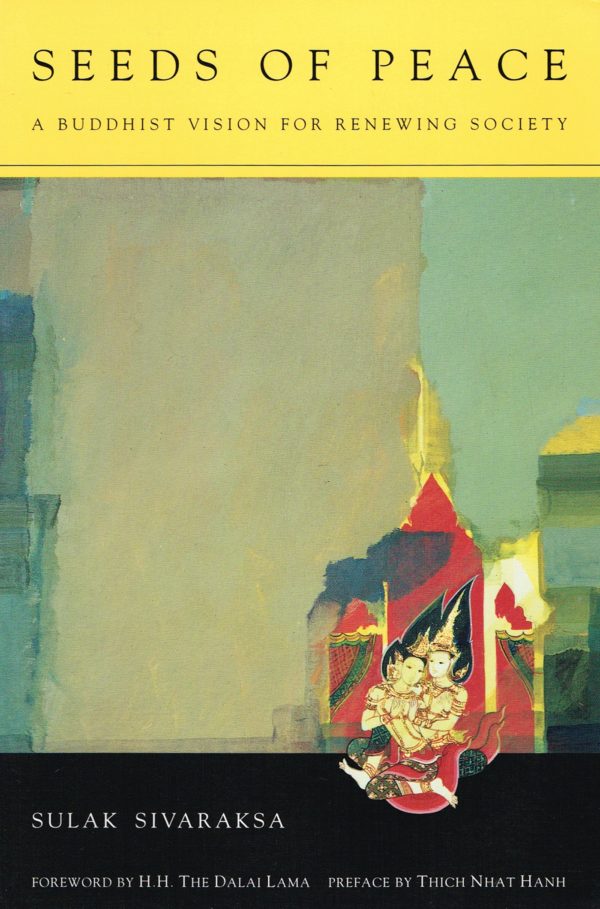 Seeds of Peace is a critique of modern society and a proposal for a more humane and livable world. Thai writer and professor Sulak Sivaraksa is one of Asia's leading social thinkers and social activists. His wide-ranging work includes founding the International Network of Engaged Buddhists (INEB), which invites those from Burmese and Sri Lankan war zones to meditation retreats in Thai monasteries, and organizes poor workers from throughout the Global South to discuss their hardships.
In Seeds of Peace, Sulak draws on his study and practice of Buddhism to approach a wide range of subjects, including economic development, the environment, Japan's role in Asia, and women in Buddhism. At once critical and compassionate, Sivaraksa offers intelligent and creative alternatives to the destructive patterns of living so prevalent in the contemporary world.
Good Citizens: Creating Enlightened Society
In Good Citizens, Thich Nhat Hanh lays out the foundation for an international solidarity movement based on a shared sense of compassion, mindful consumption, and right action. Following these principles, he believes, is the path to world peace. The book is based on increasingly globalized interconnectedness, and the resulting need for harmonious communication and a shared ethic to make our world a more peaceful place.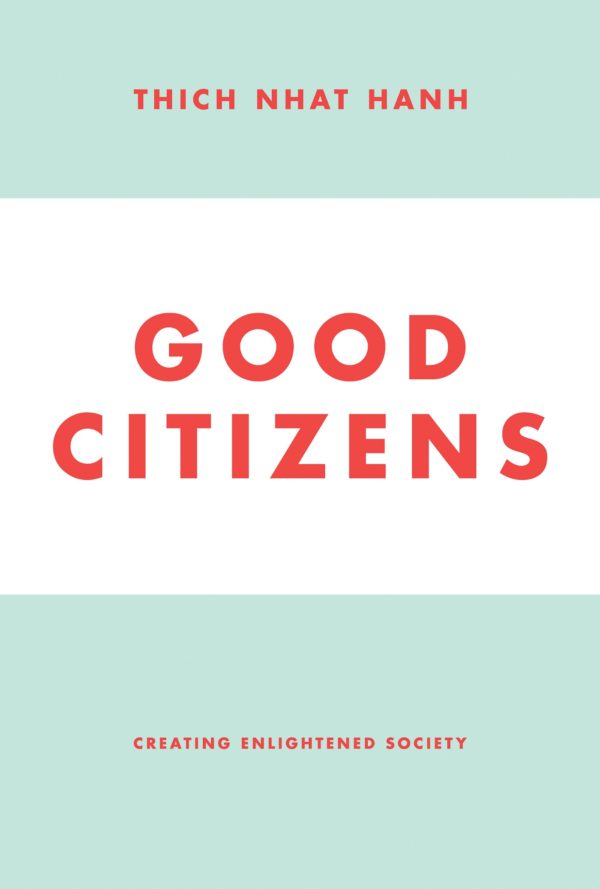 People of all faiths and cultural backgrounds will appreciate its message. Though based on the basic Buddhist teachings of the Four Noble Truths and the Eightfold Path, Thich Nhat Hanh boldly leaves Buddhist terms behind to offer his contribution to the creation of a truly global and nondenominational blueprint for overcoming deep-seated divisions, a vision of a world in harmony, and the preservation of the planet.
Key topics include the true root causes of discrimination, and exploration of the various forms of violence: economic, social, and sexual. He encourages the reader to practice nonviolence in all daily interactions, elaborates on the practice of generosity, and teaches the art of deep listening and loving speech, to help reach a compromise and reestablish communication after misunderstandings have escalated into conflicts.
Good Citizens also includes the complete text of the UN Manifesto 2000, a declaration for transforming violence and creating a culture of peace for the benefit of the children of the world. It was drafted by numerous Peace Nobel Prize recipients and signed by over 100 million people worldwide.
➛ Find out more about Manifesto 2000.
➛ Read some excerpts from the book here.
Calming the Fearful Mind: A Zen Response to Terrorism
In this unique book, Thich Nhat Hanh looks at the real roots of terrorism and fear and offers the way out: a path of compassion and open-heartedness.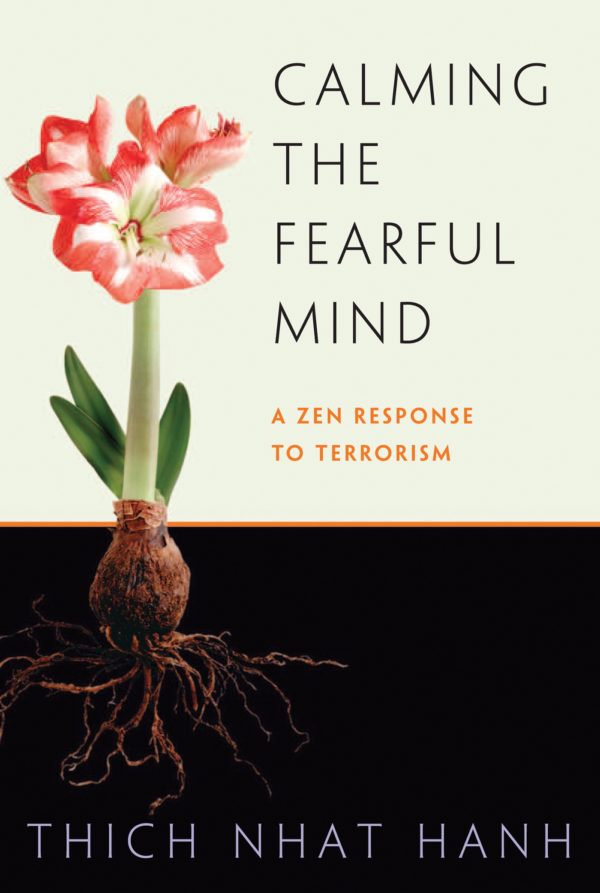 Thay teaches that we will only be safe when we acknowledge our real enemies – not other human beings, but our own ignorance, discrimination, fear, craving, and violence. With clarity and gentleness, Thich Nhat Hanh offers step-by-step instructions for calming the mind and looking deeply into our misperceptions. His own generosity of spirit and love for all beings models a path out of uncertainty and towards peace. Only with the practice of compassion, deep listening, and mindful communication can terrorism be transformed and uprooted.
Calming the Fearful Mind offers key teachings designed to help heal the misunderstanding, fear, and hatred that divide us as individuals, groups, and nations. An invaluable book for anyone who has wondered how to deal with anger and the desire for retaliation.
Ultimately, Calming the Fearful Mind is a book about finding peace. It takes Thich Nhat Hanh's signature mindfulness practices and reveals how they can help us address our most challenging, most deeply rooted fears.
---
 ☁️ As has been the case with Buddhist teachings for millennia, there is no charge for the Plum Village App and its digital content. However, if your means allow, please consider offering a donation to support our small team's continued work on the app.