We are fortunate to have access to a large collection of recorded Dharma Talks by Zen Master Thich Nhat Hanh and other dharma teachers in the Plum Village tradition. These talks are a source of inspiration for those wanting to integrate Buddhist wisdom into their daily life. Digging deeper into this range of teachings, the listener will find that these talks are dense, infused with information and advice, and usually last an hour or more.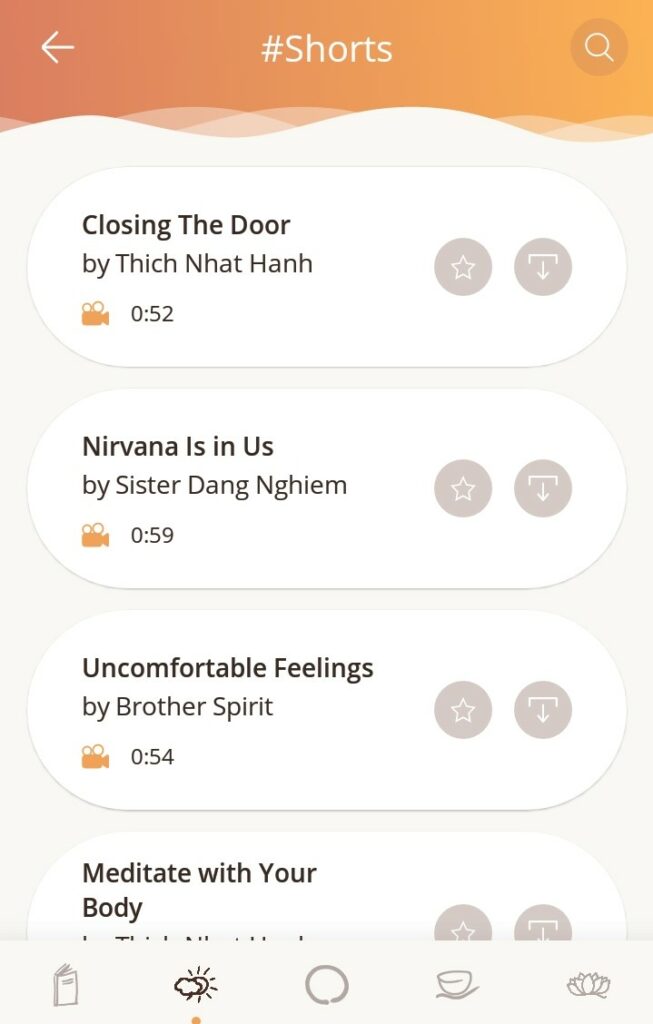 However, we have heard that practitioners often save such talks 'for later' but seldom find the time to go back to them. For that reason, our #Shorts series serves large teachings in a bitesize format, at under just one minute each.
#Shorts are collected from talks by Zen Master Thich Nhat Hanh, his disciples, and other dharma teachers from various Plum Village communities around the world. The short videos are published on the app and the app's YouTube channel, with a link to the Dharma Talk, public talk, or Q&A session from which the clip was cut – in case you do want to watch or listen to the full content.
There is no secret recipe to selecting longer talks to suit this shorter format. As Buddhist wisdom is at the heart of all of the talks, most have the potential to become #Shorts. We follow our intuition, and external events often push us towards the right talk for a particular time. The dharma is the dharma; the talks have been given; circumstances cause us to listen to certain talks and make certain elements resonate.

#Shorts are not only intended to make use of a popular, accessible format, they also move the focus onto ideas or thoughts that the listener can then muse on at a slow pace. Listening to the dharma can be a blessing with a significant effect, even if it comes in the form of a 60-second short. This format can also be a quicker way to become calm, composed, and receptive.

'Masterpiece of the Cosmos' by Thich Nhat Hanh is a favourite of ours, including the memorable statement, "Your body contains all [the] information of the history of the cosmos", with its potential to become a koan.
We like to think that a little can go a long way; sometimes a little is all we need, but the 'right' little can have a tremendous effect. We hope the #Shorts series creates a warm and cosy refuge in your hearts. Enjoy!
Which is your favourite #Shorts episode so far?
---
➛ Watch this space on the Plum Village App for more #Shorts
➛ Watch full Dharma Talks
☁️ As has been the case with Buddhist teachings for millennia, there is no charge for the Plum Village App and its digital content. However, if your means allow, please consider offering a donation to support our small team's continued work on the App.