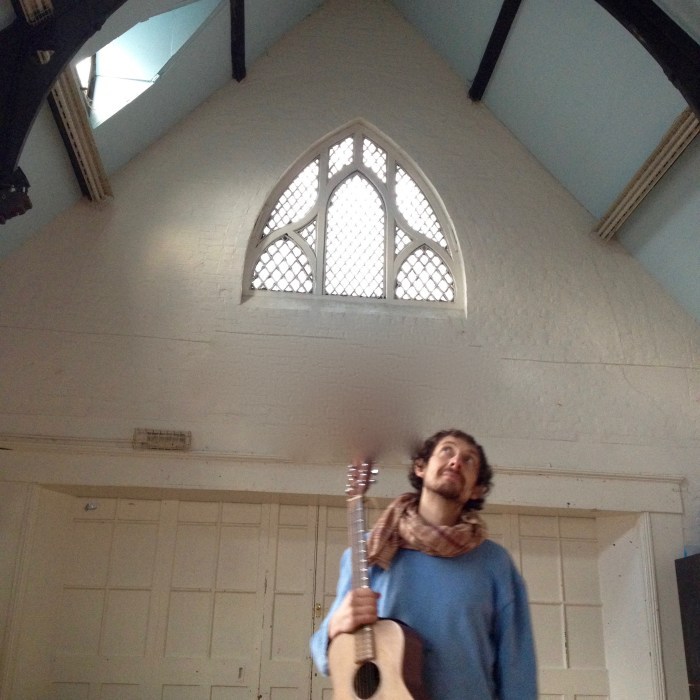 Peace activism and the practice of mindfulness come easily to those who understand their interconnectedness. Singer-songwriter Joe Holtaway is one of those people. And to use his artistry to further enable this connection, he attends both protests and mindfulness retreats with his guitar on hand. We met in London for a conversation which ranged from the compatibility of music with the practice of meditation and activism, to the first meditations he guided for Wake Up London, how Thay's teachings have inspired his songs, the times when meditations were available on vinyl, and his recent album of songs based around Plum Village practices and co-produced with the community in France.
How did music and mindfulness come into your life?
My parents are folk musicians, so I grew up with songs. They run a folk club and have run festivals, and we used to go to a lot of festivals growing up. We always had artists coming to the house, staying with us or playing in the club. Alongside that, my mum was a teacher. We lived in Cornwall, where I grew up, and some of the schools have only 50 children and about four teachers, so amongst the subjects that my mum taught were French, English, art, and religious studies.
My mum also did yoga. When I was about 11 or 12, I used to get really overwhelmed, so she would give me meditation, relaxation records, and visualizations like body scans. It really helped – so the seeds of mindfulness have always been there.
When I first came to Plum Village, I was living in a house-share in London with more than twenty other people, which was owned by someone on the spiritual scene. It was a vegetarian house and a real mix of ideas and spirituality, politics and activism, in a very caring and friendly way. We had a food co-op, we ate together. It was beautiful. And someone there was going to a meditation and lent me a book by [spiritual teacher and self-help author] Eckhart Tolle. It really spoke to me. I was so moved by it. And Eckhart mentioned Thay; that's how I first heard about him.
One time, I went to a meditation day run by Insight Meditation in London. I saw that people were doing meditation regularly – whereas I had only done it occasionally – and I thought, 'Oh yeah, this is the stuff that I used to do with my mum, but I can see now that these people are doing it every day.' I was in my early twenties and realized that this is something you have to do regularly and that it's a way of life, and I liked that.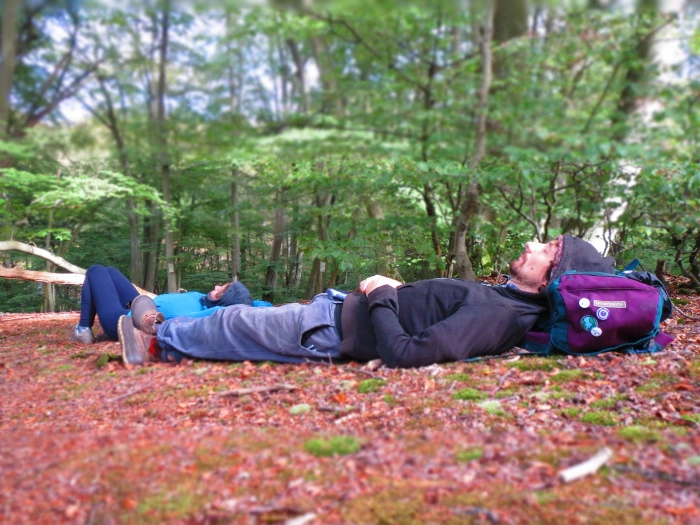 When did you first consider the potential of combining music with meditation or guided relaxation?
There's a chapel within the King's College campus [in Central London], and [meditation community] Wake Up London had it for the day because one of the members was a chaplain for the university. They gave a talk, and then everyone had to lie down for deep relaxation. One of the English Plum Village monastics, Brother Phap Lai, got out his guitar and started playing. I had tears in my eyes because it was so beautiful; I felt like, 'Yeah, I want to do that.' The idea of singing a song while people lay down for deep meditation made something crystallize inside me; it seemed to bring folk singing and the practice of meditation together. And so I started doing that during small retreats for Wake Up-ers.
How did you first attempt to merge mediation with music?
I was already writing songs inspired by my journey with spirituality. One time, we were staying at a house called Binley Farm, which is owned by one of the Plum Village Order of Interbeing members. They had set up a retreat center there and we had deep relaxation. I offered to facilitate, and that's the first time I got my guitar out in a mediation context. I remember singing a song called 'Peace' – "Peace to the newborn babe / Peace to the sinners and saints" – and "Breathing in, breathing out / I am blooming as a flower."
Do you now run guided meditations which are accompanied with music?
Yes, I do it regularly. I've got an online journal about my journey as a singer-songwriter, which includes gigs I've played, demonstrations I've been to, and projects I'm working on. And whenever I do one, which is every two or three months, I record a relaxation; I also publish them through [meditation app] Insight Timer.
Twice a year I also go to the Plum Village practice center in Germany [the European Institute of Applied Buddhism (EIAB)] to run the Wake Up Your Artist retreat: with my friend Larissa Mazbouh, a week of poetry, improv theater, games, singing and songwriting, and explorations of being an artist in different mediums. And we do relaxations every day. So yeah, it's a very big part of my life.
Is the guitar a good fit for mindful music?
Right through my twenties and thirties, my musical upbringing – which is what Plum Village and Thay's teachings were – has been interwoven with a desire for peace; a desire for internal and external peace, and to build a regenerative culture which produces art and music and thought and writing.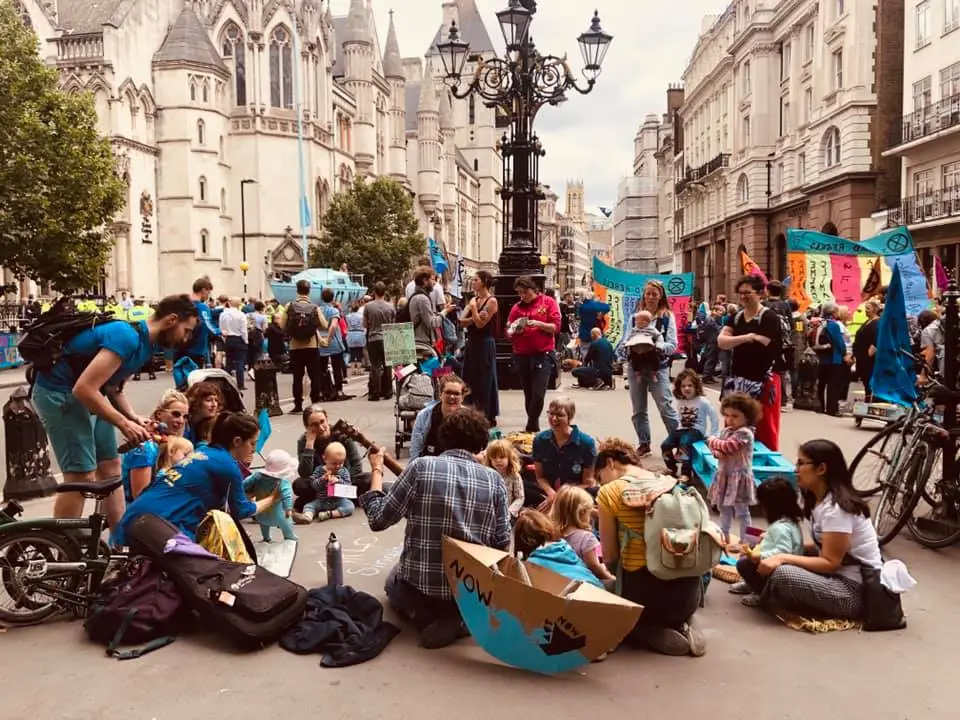 It seems like all the songs, the poems, the art, and the stories I'm interested in call for peace. And I think that, if the human heart and mind laid down its weapons and its obsession with control and power – if, in the words of Jimi Hendrix, "The power of love overcame the love of power" – we would flourish in beautiful ways. And then we could sing songs about exploring peace in the way that Plum Village does. I feel that building a culture of peace has to be the next step in human evolution.
That's what my parents were interested in, so the acoustic guitar is a symbol of what they were both involved with when I was a child. And from what I understand, in Thay's early days as a monastic, he and his group of volunteers, and the youth and social service, also brought peace to people by traveling around and singing songs.
So there's something about the acoustic guitar: it's easy to carry around and easy to play. That's where I join that river of peace. ☁️
What are practice songs, and can lay practitioners create them?
A practice song speaks directly to the practices of Plum Village – not just the culture but sitting and breathing, calming and slowing down, and other mindfulness exercises. So songs like 'Breathing In, Breathing Out' are practice songs that speak about coming back to the breath, back to the body, back to what you're doing. But I also think it's wonderful that Plum Village brings other songs into the canon of practice songs: pop songs as well as ones written by monastics and lay practitioners.
So I do think lay practitioners can create practice songs sure; 'Breathing In, Breathing Out' and the walking meditation gatha song 'In, Out, Deep, Slow' were both written by lay practitioners. Through conversations with my friend Betsey Rose, I know that, in the 60s, Thay could see that the Dharma needed artists to spread it. And, of course, artists need the Dharma to make those songs. So it's an interbeing relationship.
How did the Songs of Plum Village album come about?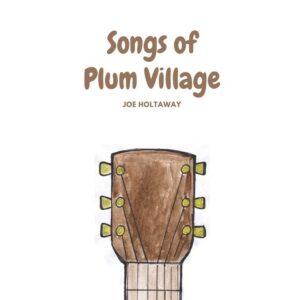 The Plum Village community were making a film, so they were looking for music. They asked me to send them some songs and I recorded an hour-and-a-half of myself singing, but ultimately they picked a more classical score and my music was archived. Eventually, though, they pulled out one of my songs – 'When I Rise' – for a Plum Village Instagram post. A lot of commenters asked for the song so I thought, 'Yeah, I should bring that out.' I took that session, which was one long file, separated it into songs, and that produced the record. The response has been great.
I only make CDs if people require them, but otherwise I make CD-less artwork: a nice cardboard box with the lyrics sheet, a little bookmark, and some postcards. So you can also have the artwork and listen to the album online, or I can send out a digital folder containing the songs, the lyrics sheet, and a little video. So you can receive it in many ways, all of which are available on my website – and 50% of any profits go to Plum Village and the Thich Nhat Hanh Foundation.
It's been lovely to get positive feedback, because these songs mean as much to people as they do to me – I think they bring a lot of calm in troubled times. Every time I see a message or a comment I can feel that the candlelight of these songs has been passed on, and that is beautiful.
---
➛ You can listen to many of Joe's songs on the Plum Village App and the app's YouTube channel – both original creations and classic practice songs inspired by Buddhist teachings, some co-authored with monastic and lay practitioners.
➛ You can also listen to Joe's music on most streaming platforms out there 🎶
All photos courtesy of Joe Holtaway