Dear friends,

As 2022 comes to a close, we are looking back at some of the most popular episodes of The Way Out Is In: The Zen Art of Living podcast, which we hope you have enjoyed listening to on the Plum Village App or elsewhere.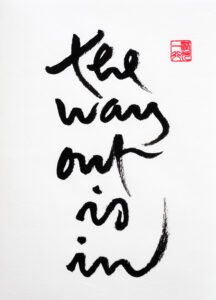 The series mirrors Zen Master Thich Nhat Hanh's deep teachings of Buddhist philosophy: "a simple yet profound methodology for dealing with our suffering, and for creating more happiness and joy in our lives". Thay's calligraphy of the phrase "The Way Out Is In", which is used as the series' logo, is a reminder that the way out of any difficulty is to look deeply within, gain insights, and then put them into practice.
Since its first episode streamed in August 2021, the series has been co-produced by the Plum Village App and Global Optimism, with support from the Thich Nhat Hanh Foundation. It is co-hosted by Zen Buddhist monk Brother Phap Huu – Thich Nhat Hanh's personal attendant for 17 years, and the abbot of Plum Village's Upper Hamlet – and Jo Confino, a journalist who works at the intersection of personal transformation and systems change. Many special quests – other monastics, dharma teachers, and lay practitioners from all walks of life – have also graced this project with their presence, stories, and wisdom.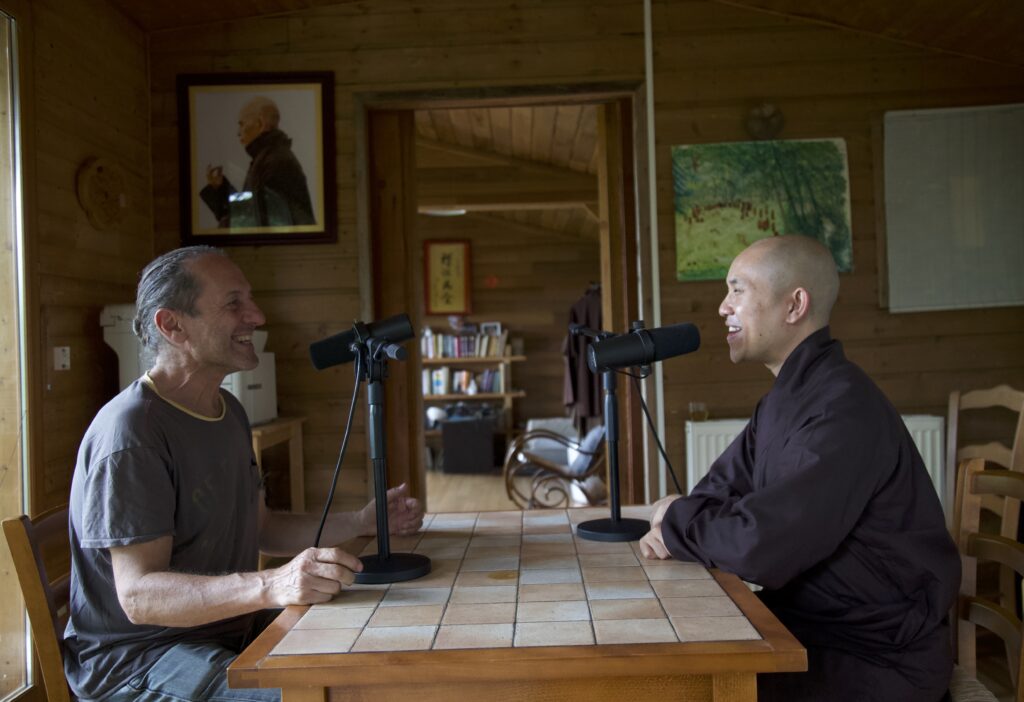 Here, forty-three episodes later, join us as we count down the year's top five most popular episodes:
A timely episode about the modern diseases of busyness, overwhelm, and burnout, and how Zen Buddhist practices and Thich Nhat Hanh's teachings can help us regain our balance. From thoughts on busyness in a monastic environment, coming home to ourselves and learning to stop in the midst of crises, to making a case for an "age of community", and how the Zen Master himself would face up and deal with overwhelm, this is another episode packed with examples and daily practices for our times.
This episode about views and perceptions addresses ways to move beyond them and find deeper meaning and truth in life. The presenters provide the context for the Buddhist concept of right view, deconstruct 'view' and perceptions, and share Zen stories and practices which can help us let go of views that bring suffering (such as the Five Mindfulness Trainings – with a special focus on the first three), while embracing the ones that can bring happiness.
Zen Buddhist nun Sister Dinh Nghiem was special guest in this intimate and moving episode. She and Brother Phap Huu – both former attendants of Thich Nhat Hanh – recollect stories from Thay's period of illness following his stroke in 2014. These include the Zen master overcoming his coma, to the lessons he continued to share with the sangha from his hospital bed and, later, from the 'root temple' Tu Hieu in Hue, Vietnam, where the power of his presence allowed him to continue being a great teacher even without the ability to speak. They also address the way the sangha became Thay's continuation, both before and after his passing in 2022.
Sister Lang Nghiem, Zen Buddhist nun of the Plum Village community, joins the two presenters to talk about the role of Buddhist psychology in understanding how our mind works and how it can help people lead a better life. What is the impact of our survival instincts in today's world? What are the risks of focusing only on ourselves? And are we really responsible for everything? Why do we need a self? How does that work for us and when does it stop helping?
In this episode, the presenters discuss the art of happiness according to the sutras from the Buddha's time; explore the many layers of the Discourse on Happiness and the 11 causes of 'the greatest happiness', as shared by the Buddha; and how these ancient texts can help us create the conditions in which our own happiness can ripen today.
Brother Phap Huu and Jo dig deeply into their own private and professional lives to exemplify and support these subjects, from 'living our values' and the Four Gratitudes to the power of the sangha; meaning and purpose; generosity; forgiveness; Thay's memorable calligraphies; and much more.
What was your favorite episode of 2022? We'd love to hear from you in the comments.
More episodes are coming in 2023. Thank you for listening! 🙏
---
☁️ As has been the case with Buddhist teachings for millennia, there is no charge for the Plum Village App and its digital content. However, if your means allow, please consider offering a donation to support our small team's continued work on the app.