At Plum Village practice centers around the world, a Lazy Day takes place once a week. Not just a day of rest, this is a deep practice initiated by Zen Master Thich Nhat Hanh. But what exactly is a Lazy Day? And why use the word 'lazy', when it can have such negative connotations? These are just a couple of the questions asked by the Plum Village App's users.

Here we have collected a few core teachings and other materials which should help people understand why Thich Nhat Hanh thought 'lazy' was the best choice of word. 
1. Lazy Day during Plum Village retreats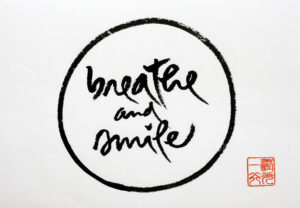 Anyone who's attended a live retreat in a Plum Village practice center will have already experienced a Lazy Day.

Here's what the Plum Village website's 'Practicalities' page has to say about these days:

"There are no scheduled activities [on Lazy Days]. […] Lazy Day is an opportunity to let the day unfold in a natural way while still maintaining mindfulness. It is a day to practice being rather than doing. It is a day to nourish ourselves with silence, nature, rest, journalling, reading, exercise or perhaps music. Lazy Day offers us the time, peace and space we may need to write a letter to a beloved one, or perhaps a letter of reconciliation.
"On Lazy Day we may like to take a walk through the nearby countryside, practice relaxation, or slow walking meditation around the hamlet. Our meditation halls are always open for those who enjoy sitting meditation or total relaxation. We ask everyone to stay within the monastery on Lazy Day in order to fully benefit from this special day."

The 'Practicalities' page also provides further information about the structure of Plum Village retreats and on the additional practices that you'll experience there.
2. Talk by Thich Nhat Hanh: 'What's the Point of Doing Nothing?' 
Nobody explains what this day should be better than the Zen master himself. This is an excerpt from a dharma talk; you can read the whole transcript here.

"The Lazy Day is a kind of drastic measure against […] habit energy. On Lazy Days, you refrain! You do your best in order to refrain from trying to do something. You try to do nothing. It's hard. It's hard, but we have to learn. We have to open up, to start a new civilization. Because we have the tendency to think in terms of doing, and not in terms of being. 
"We think that when we are not doing anything, we are wasting our time. That is not true. Our time is, first of all, for us to be. To be what? To be alive, to be peace, to be joy, to be loving. And that is what the world needs the most – so, we train ourself in order to be."
3. 'The Art of Laziness: Don't Just Do Something, Sit There!'
In episode 41 of the Way Out Is In podcast series, Brother Phap Huu and Jo Confino spend almost two hours going through examples and teachings on this topic alone. 
Together, they discuss the forgotten art of resting and how to free the word 'laziness' from its Western slander – as an equivalent of torpor or sloth – through the wisdom of Zen Buddhist teachings. In addition, Brother Phap Huu shares the story of how Lazy Day became part of the Plum Village tradition, along with advice that Thich Nhat Hanh gave about being in a state of laziness – one of the key attributes of a healthy and happy life.
The episode ends with a reading from the 'Lazy Day' chapter of Thich Nhat Hanh's book Happiness – another resource for those who want to know more about this Plum Village tradition.
---
☁️ As has been the case with Buddhist teachings for millennia, there is no charge for the Plum Village App and its digital content. However, if your means allow, please consider offering a donation to support our small team's continued work on the app.