Dear friends,
We are pleased to announce the release of version 2.2 of the Plum Village app! This small but significant release will make sure you see all the regular updates from our wonderful editors in the Oak Forest Team!
We've improved the way content is refreshed so you see the latest meditations, talks, chants, and songs sooner. Previously, new and updated content would only show up after quitting and reopening the app. Now, content will be refreshed once a day in the background when you use the app.
We don't want to use too much of your mobile data allowance, so if you're not on Wifi, the app will ask first!
The list of folders and meditations usually takes no more than a few seconds to download. Then you'll see a notice about the newly refreshed content:
You can press "What's New?" to see new and recently edited items: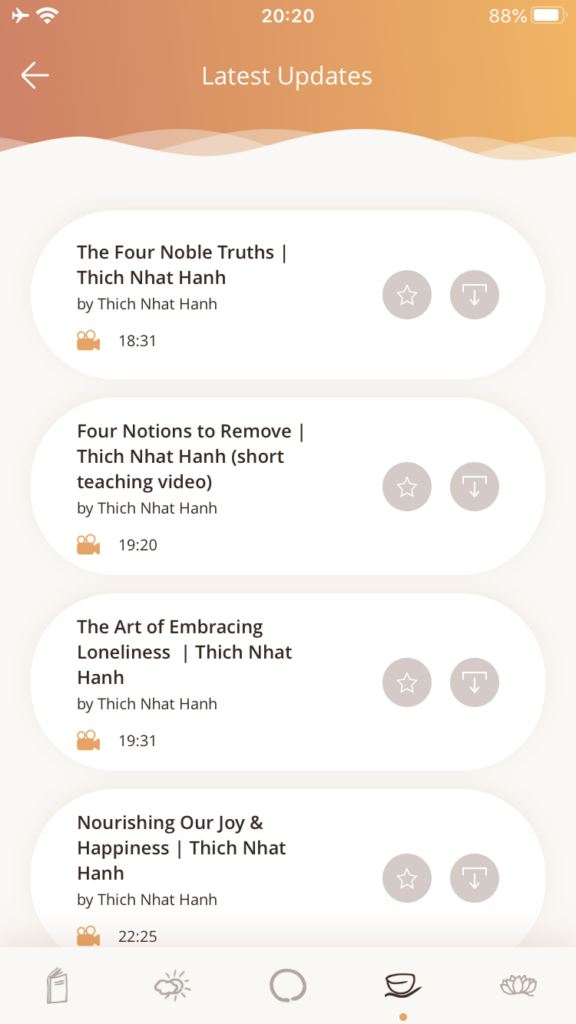 With the more frequent content updates, you may also notice the beautiful folder icons from our illustrator, Karina:
Starting with this update, new icons like these can be made available as soon as they are ready, instead of having to wait for us developers to release a full app update! 👨‍💻
We made a few other small improvements and bug fixes in this update. In the previous release of the app we introduced an option to share a meditation with friends. Now this works even better, for example if you want to share by email it will pre-fill the email with a subject and snippet:
Continuing development of the Plum Village app
We're already busy working on the next update to the Plum Village app!
As has been traditionally the case with Buddhist teachings for millennia, the app and digital content within is offered freely. Users can choose to donate if they value it and want to support it to continue and develop further.
You can also support development by reporting bugs via our contact form, submitting ideas for new features or voting for them on our feedback board, and leaving a review on the App Store or Play Store.