Dear friends,

Due to scheduling conflicts, it hasn't been possible to record new episodes of The Way Out Is In during October. However, Brother Phap Huu and Jo Confino will be returning for more conversations with special guests over the coming month. Both presenters are looking forward to again sitting around the kitchen table in Thay's Upper Hamlet hut, sharing warm tea, deep listening, and loving speech.

Until these new episodes are released, we invite you to revisit past episodes that you may find relevant today. They offer guidance for navigating polarizing events, key ways to engage with the world according to Buddhist teachings, and, last but not least, building and sustaining a "beloved community". One episode includes a discussion and commemoration of Zen Master Thich Nhat Hanh's own experience of war (in Vietnam).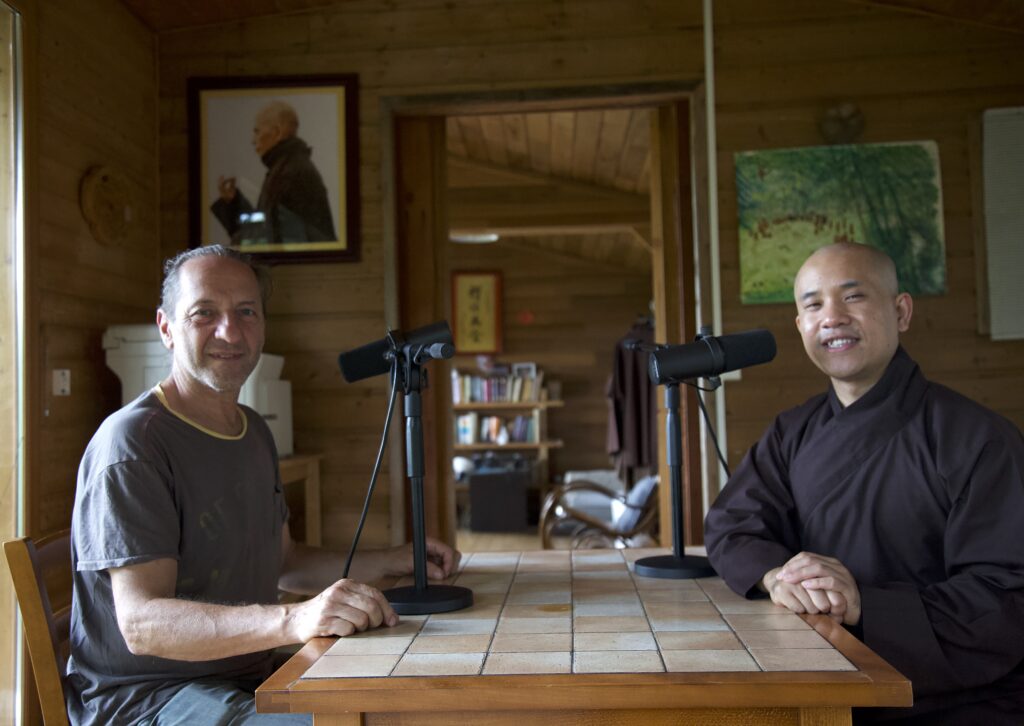 We hope you'll find these sharings nourishing and helpful.
'War and Peace (Episode #24)'
Brother Phap Huu and Jo Confino discuss how to find peace in ourselves and to encourage peace in the world during times of war. They remember Thich Nhat Hanh, who himself lived through a conflict – the Vietnam War – yet found a way to peace, and to become an activist for transformation.

Also discussed: inherited war traumas; the importance of maintaining compassion and balance during these times; going beyond our 'roles' and 'labels'; channeling anger; practicing when we feel 'on the edge'; coming back to our humanity; cultivating love, peace, and nonviolence every day; Thay's creation of a nonviolent movement in wartime; and surprising insights from a Plum Village retreat for Palestinians and Israelis.
'The Meditator, the Artist, and the Warrior (Episode #22)'
'The Meditator, the Artist, and the Warrior' are three key ways to engage with the world, which was a key goal of Thich Nhat Hanh.
Inspired by a chapter in Thay's book, Zen and the Art of Saving the Planet, the episode focuses on how these three elements are present in everyone, and explains what they mean and how to nourish and activate them. Interspersed throughout are examples from the zen master's own experience, as recalled by Brother Phap Huu.

📍 Read more and listen here.
'Free from Views in a Polarized World (Episode #36)'
Here, Jo and Brother Phap Huu consider views and perceptions, and how to move beyond them to find deeper meaning and truth in life. They also provide context for the Buddhist concept of right view, and deconstruct 'view' and perceptions, with examples. Finally, they share zen stories and practices (such as the Five Mindfulness Trainings, with a particular focus on the first three) which can help us let go of views that bring suffering, while embracing the ones that can bring happiness.
'Building and Sustaining the Beloved Community (Episode #15)'
This episode, about the art of community living, takes a closer look at the Plum Village community's four-decade existence. The conversation touches upon key friendships, such as that between Thich Nhat Hanh and Martin Luther King Jr.; 'the beloved community'; collective energy; the spirit of togetherness; sustaining a community; deep listening; and the importance of a sangha (a community of practitioners) for individuals' practice of mindfulness.
---
🎧 Listen to The Way Out Is In series on the Plum Village App.
---
☁️ As has been the case with Buddhist teachings for millennia, there is no charge for the Plum Village App and its digital content. However, if your means allow, please consider offering a donation to support our small team's continued work on the app.