Dear friends,
We are pleased to announce the release of version 2.3 of the Plum Village app. This update brings a wide range of small enhancements, bug fixes, and under-the-hood improvements which make the app more robust than ever. We've also added support for the Apple Health app for those who use it on iPhone.
If you experience any difficulty getting the bell to ring, see our blog post on 'Troubleshooting the Bell of Mindfulness'.
Bell of Mindfulness improvements
The Bell of Mindfulness feature allows you to set up a periodic bell to help you reconnect with the present moment, helping you to establish ongoing mindfulness in your daily life.
This feature has been present in the app for some time, but we have continued to hear of some devices on which the bell does not ring at the correct time. This was mostly happening on some Android devices including Samsung phones, due to battery saving features. These battery saving modes could stop the bell from ringing at the correct time, and also sometimes lead to multiple bells in short succession later on. We have now substantially rewritten the code on Android so that it is works correctly on these devices.
We also fixed other small bugs with the bell and made usability improvements to make it clear how to it configure it.
To learn more about the Bell of Mindfulness, read our post How (and why) to use the Mindfulness Bell on the Plum Village App.
How to use the Plum Village App with Apple Health on iPhone
For those using an iPhone, we've added integration with Apple's Health app. When you listen to Plum Village meditations, you can have these recorded as "Mindful Minutes" in the Health app, where they will show alongside personal health data you may keep about exercise, sleep, nutrition, and more.
To enable tracking of Mindful Minutes, first go to the Extras tab (this is the fourth icon from the left), then Settings.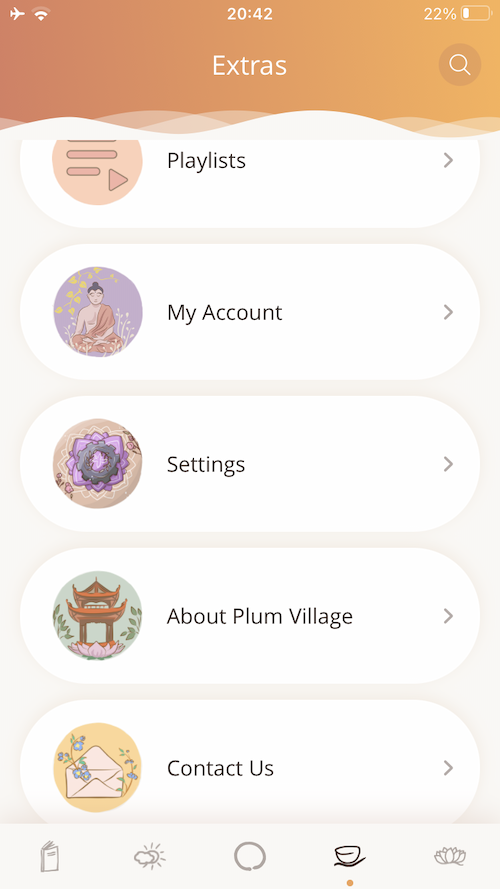 Scroll down to find the Apple Health options:
If you wish to set up tracking of your meditations in the Health app, press Connect. You will then see a permission screen:
To grant permission, you should press Mindful Minutes and then Agree.
From now on, when you listen to a meditation in the Plum Village app, this will be recorded in the Health app. Anything you listen to under the Meditations (middle) tab will be included in your Mindful Minutes. Talks and songs (on the other tabs) are not included, although these can also guide you into mindfulness!
Other improvements in v2.3
The update includes a number of other small improvements and bug fixes. Here are some of the most notable changes:
There is now a preview image when you share a meditation with friends.
Icons will load in advance so that they are available offline.
We fixed a bug on some devices where icons were not displaying at all.
You can now replay a track using the controls on the lock screen on iPhone or iPad.
We updated many of the under-the-hood technologies to ensure everything continues to work reliably on a wide range of devices.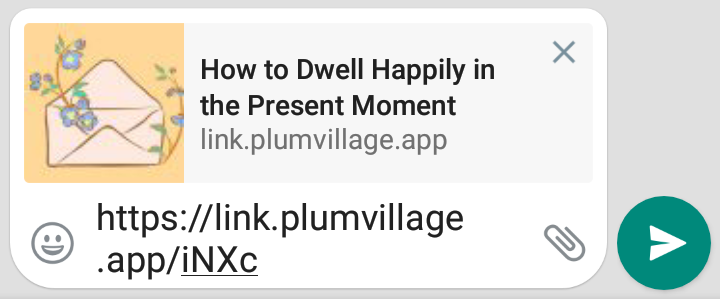 Continuing the development of the Plum Village app
As has been traditionally the case with Buddhist teachings for millennia, the app and digital content within is offered freely. If your means allow, please consider offering a donation to support the app to continue and develop further.
You can also support development by reporting bugs via our contact form, submitting ideas for new features or voting for them on our feedback board, and leaving a review on the App Store or Play Store.