Dear friends,
We are pleased to announce a new update to the Plum Village App. Additions include a dark mode, improvements to playlists and subtitles, and extra language settings, as well as other small improvements.
This release, version 2.7, is available now for both iPhone and iPad, and for Android phones and tablets.
A dark theme for the Plum Village App
Dark mode has been one of the most requested features for the app. We have added it in addition to the original, light theme:
Dark mode can be easier on the eyes (particularly at night), and displaying light text on a dark background can also make it easier to read, particularly for people with a visual impairment.
Additionally, dark mode saves energy on devices with OLED screens (used on many high-end phones in recent years, including most iPhones released since 2017). On these OLED devices, the battery will last longer when using dark apps, since less light is emitted.
We are also mindful of the environmental impact of the Plum Village App; across thousands of active users, the introduction of this dark theme should slightly reduce its carbon footprint.
The dark theme is optional, and will follow your system settings, unless you choose to override that under Extras (fourth tab) -> Settings -> Dark theme.
Improvements to playlists
In the previous release, we introduced playlists, allowing users to compile a selection of audio tracks to follow during a practice session.
We have now improved this feature: tracks can be included multiple times, and be played in shuffle mode. Playlists are also easier to manage: they can be renamed, and adding and reordering tracks is now easier. To learn more, see our page on using playlists in the Plum Village App.
Improvements to video subtitles
We introduced limited subtitles in the previous release. Now, we have added a subtitle control to the video player, making subtitles easier to select, where available:
We have also added support for languages other than English, which also work for videos saved offline.
At the time of writing, subtitles are not available for every video, and in most cases are only in English. However, we will be adding additional subtitle tracks as part of our regular content updates, as in the recent weeks we started to use veed.io to streamline the process.
New language settings
If you use the Plum Village App regularly, you may have noticed the recent addition of some Spanish-language meditations, talks, and resources, on top of existing English and French content. Our intention is to continue offering further content in different languages – however, as we do this we will also be improving the way in which different languages are shown in the app.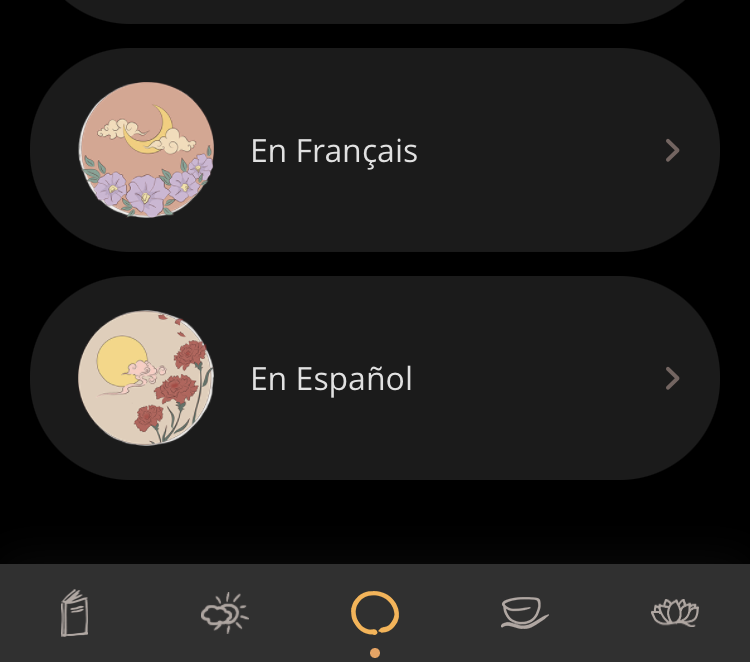 The app will now auto-detect the language of your device and prioritize it. For example, if your device is set to use Spanish, the app will now show Spanish content at the top and in the Latest Updates folder. Currently, this feature is limited to English, Spanish, and French.
If you would like to override the preferred language for the Plum Village App, you can do so in Extras -> Settings. There is also an option to hide other languages.
We will be improving language support in the Plum Village App throughout 2021. We aim to offer a full native-language experience for French and Spanish, and subsequently other languages too.
Other improvements in v2.7
Other improvements in this release include:
The Latest Updates folder now featuring recent blog posts from our website
When logged in with an account, your profile photo from Gravatar being shown (if you use the service)
The Apple Health option having been moved to the Settings screen
A tip added to the bell, making it clearer that it can be invited at any time with a long press (half sound) or a short tap (full sound).
Continuing the development of the Plum Village App
Any imperfections with this release's new features, in particular the dark mode and language support, will be improved in future app updates.
If you feel inspired to help guide the continuing development of the Plum Village App, we would welcome your suggestions, comments, and votes, on our public feedback board.
If you experience any difficulties or bugs when using the app, please report these via our contact form; we will follow up by email to help.
As has been the case with Buddhist teachings for millennia, there is no charge for the Plum Village App and its digital content. If your means allow, please consider offering a donation to support our small team's continued work on the app.