Dear friends,
We are pleased to announce our first update of 2021. Version 2.6, available now on both iOS and Android, adds significant new features and refines many existing ones.
The highlights of this release are the addition of playlists and an optional sign-in function, as well as noteworthy improvements to the search feature and to video playback.
Introducing playlists
Through playlists, we are introducing the ability to compile a selection of audio tracks which can be followed during a practice session. For more information, refer to our post 'Using playlists in the Plum Village App'.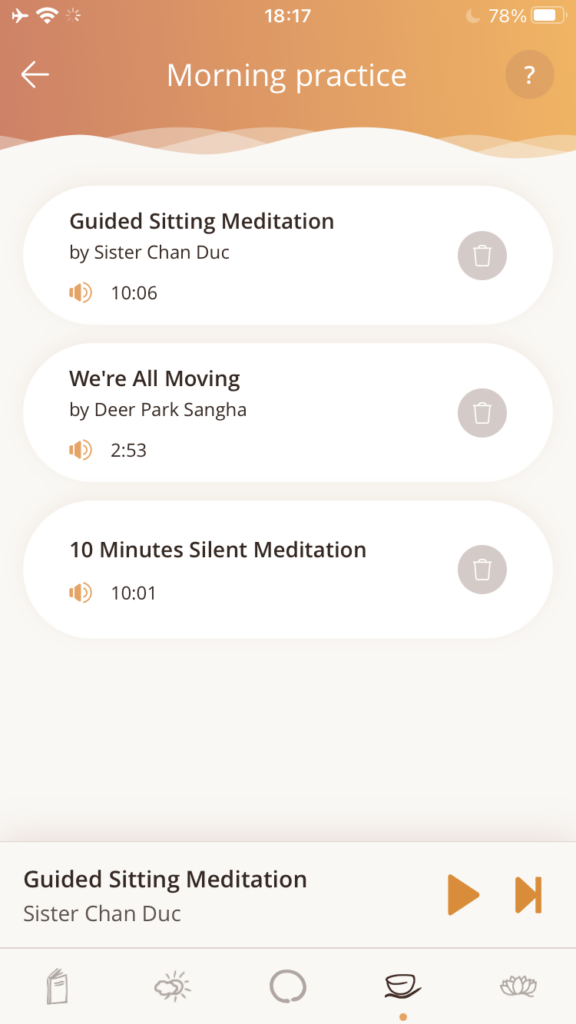 The Plum Village app has always been available to use without email registration or creation of an account. Now, we are introducing the option to sign in – if you wish – allowing your favourites and playlists to be stored and synced across any other devices on which you sign in.
Optional sign-in
You may sign in via Apple, Google, or email address.
After signing in, there is an option to log your activity within the app, to help keep track of your meditation practice (if using an iPhone, you may also like to use Apple Health).
Personal data is only collected within the app when there's a specific reason to do so. Therefore, if you prefer not to sync your favourites and playlists, you can continue to use the app anonymously, by not signing in.
Improved search box
We introduced a search function within the app at the end of last year. However, it could be a little tricky to find – so now we've included a search icon on each screen where the function is available. We have also made additional minor refinements to the user interface for search, to make its usage clearer.
Subtitles and smoother video playback
Video playback for streaming has been improved, allowing it to play more smoothly regardless of connection speed. For example, if using a slow mobile data connection, video quality will be reduced slightly so that it continues to load and play smoothly without pausing.
We have also added subtitles (also known as closed captions) for many videos. You can turn these on via Settings > Extras, or in your system accessibility settings. For now, subtitles are only available online and in English, but this feature will be improved in a future update.
Finally, we have made other small improvements to the full-screen video player. Previously, full-screen videos required your device to be turned to the right. Now, you can also turn your device to the left – often preferable with iPad tablet stands. The layout of the full-screen video player has also been improved for devices with rounded corners.
Other improvements in v2.6
This release includes a huge number of other improvements and bug fixes, including:
Dates shown for each item on the Latest Updates screen
Performance improvements, including faster start-up on Android phones and tablets
Improved Favourites: changes are shown instantly and are smoothly animated, with an option to undo removal of a favourite
Fixing of a bug which meant that the Enable Bell switch was not visible on some devices
Fixes to make sharing meditations more reliable and better presented.
Continuing the development of the Plum Village App
As has been the case with Buddhist teachings for millennia, there is no charge for the Plum Village app and its digital content. If your means allow, please consider offering a donation to support our small team's continued work on the app.
You can also support development by reporting bugs via our contact form, submitting ideas for new features, or voting for them on our feedback board, and leaving a review in the App Store or Play Store.