Dear friends,
We are happy to announce a new update to the Plum Village App, available now on the App Store for Apple devices, and on Google Play for Android phones and tablets.
In this update, we have made significant improvements to the search function, including new options to filter by duration or author.
Enhanced search
This is the biggest improvement to the search feature since it was added in November 2020.
When you use search, folders and extras are now included in results. This makes it easy to navigate the app if, for example, you forget where to find the meditation timer – just search for it.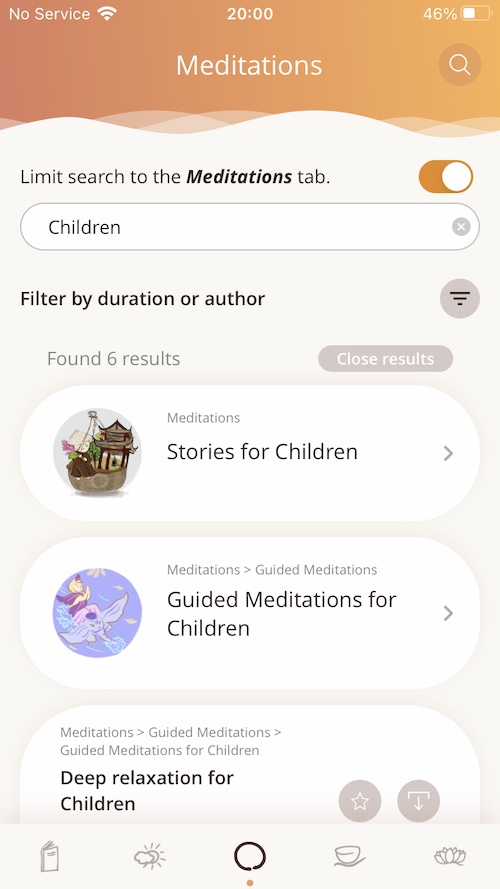 The second improvement is to display up to five recent searches below the search bar. This can make it easier to return to an item you searched for recently.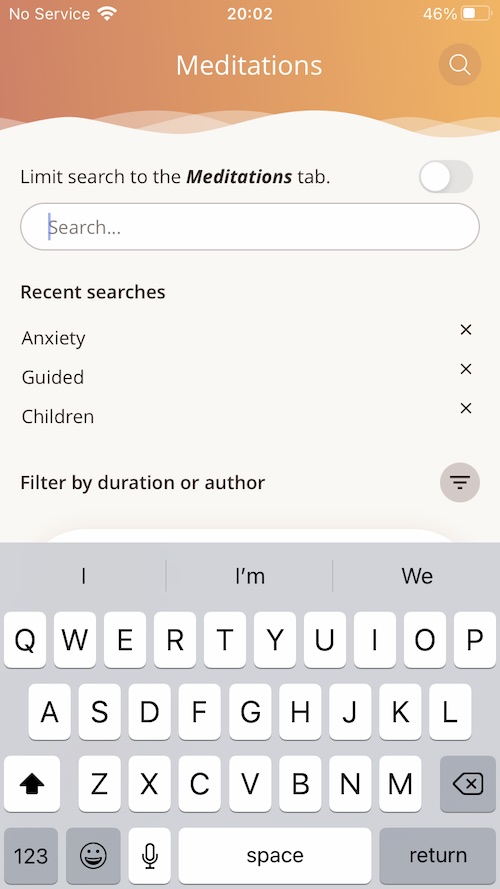 The final and most significant improvement to search is the addition of filters; you can now filter search results by duration or author.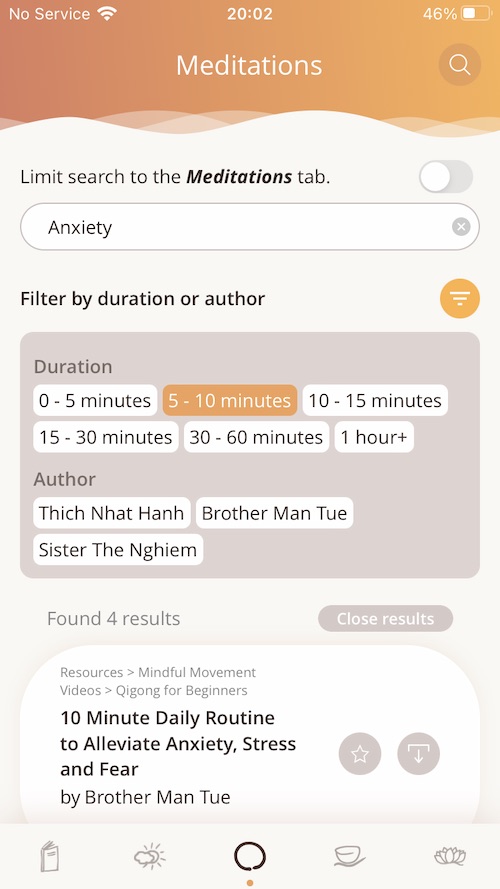 We've often been asked for a way to find meditations of a specific length, to fit the time you have available. To help do so, you can also use the filters without typing any search terms. For example, if you are looking for a short meditation, filter by duration to find all meditations of less than five minutes' length.
Improving accessibility
One of the benefits of the Plum Village App is to make the teachings of Thich Nhat Hanh and Plum Village accessible to those who might otherwise struggle to access them. In fact, one of our commitments in the Oak Forest family is:
Supporting in particular those who would otherwise find it difficult to access the teachings, for example due to disability, age, location, language, or financial hardship.
We have received feedback that some of the talks and meditations are difficult to understand at full speed. Therefore, we have added a function which allows them to be slowed down, sometimes significantly – to half speed or less.
You can find this option in Extras –> Settings:

Currently, this is a global setting which applies to all audio and video in the app. In future, if users would find it helpful, we will consider adding a control to the video and audio players.
This setting does not allow the speeding up of tracks, only slowing them down. This is intentional! Listening to a dharma talk is a practice of slowing down, listening, and reflecting. As we could see no benefit to listening at high speed, we chose to encourage deeper listening by not adding this option. However, if you feel differently, we would be happy to hear your feedback.
Another existing feature to help those who struggle with listening is video subtitles. We can always use more volunteers to help with this important work; please see 'Contributing Subtitles for Plum Village' if you'd like to help.
Other improvements in v2.10
The update includes a number of other small improvements and bug fixes, including of:
The 'My Activity' screen, where the minutes of activity was misreported
Resumption from the last playback point on talks
Saving completion of watched/listened-to tracks.
Continuing the development of the Plum Village App
As has been the case with Buddhist teachings for millennia, there is no charge for the app and its digital content. If your means allow, please consider offering a donation to support the app's continuation and further development.
You can also support development by reporting bugs via our contact form, submitting ideas for new features or voting for them on our feedback board, and leaving a review in the App Store or Play Store.